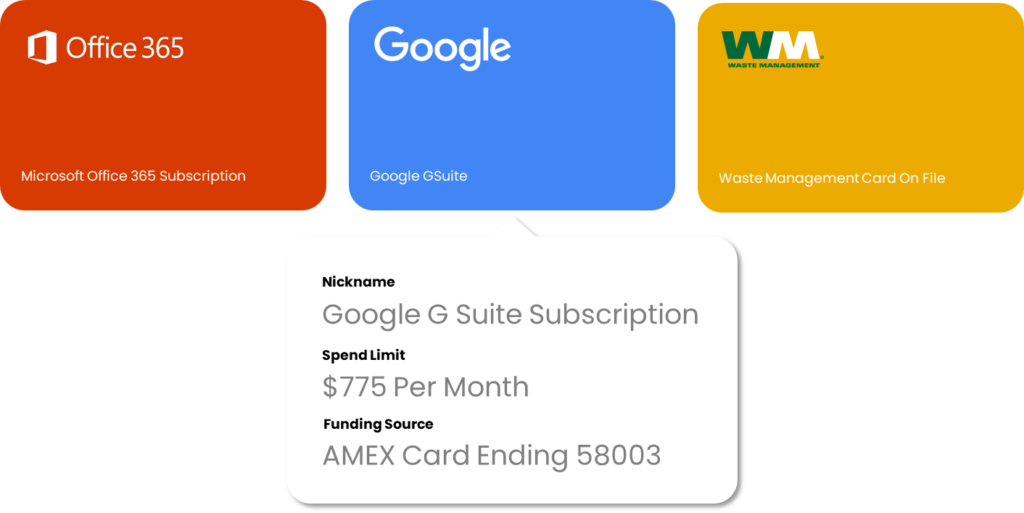 What are Virtual Credit Cards?
The landscape of B2B payments is changing more rapidly than ever and more vendors are accepting credit card payments. A virtual credit card (VCC) is a randomly generated 16-digit or 15-digit number with its own expiration date and CVV that is associated with your actual credit card account. These VCCs allow you to pay each of your vendor payments with a unique card number that has a charge limit set to the payment amount. 
Why Reloadable Virtual Credit Cards?
Reloadable virtual credit cards are VCCs that allow you to reload additional funds to the balance. This is particularly helpful in cases where vendors require a card-on-file as well as separating charges to a vendor based on a particular job. Reloadable VCCs allow you to easily control spending limits for cards on file or for particular jobs. The other advantage to using Reloadable Virtual Cards is that, like Single and Multi-Use cards, they help prevent fraud by keeping your physical card number from being utilized.
Reloadable VCC Set Up Is Simple
Reloadable VCCs are configurable in RewardWorks v4.6.13 or later. To set up a Reloadable VCC, simply follow the steps below. If you do not have this feature and would like to be upgraded, just let us know and we can get that added at no additional cost.
Step 1: Update Vendor's VCC Details
To set up a vendor for this credit card type, on the Vendor tab, access the 'Modify Vendor' screen for the vendor you want to create a Reloadable card for. Make sure the AMEX box is checked and that you also check the radio button labeled 'Reloadable.'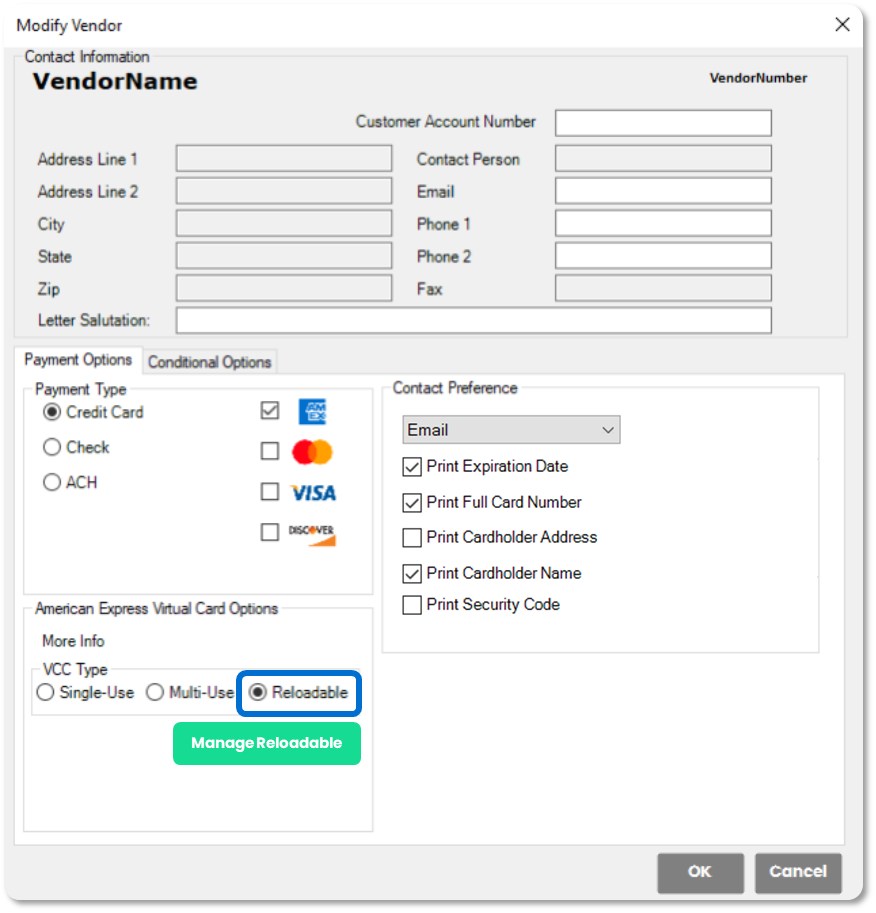 Step 2: Select Vendor Invoice to Pay
On the Invoices tab – select an invoice from the vendor to pay with your Relodable VCC.
In the Account Column, in <select payment here>, select "Generate New Reloadable".
Submit ths payment with the "Pay Invoices" button.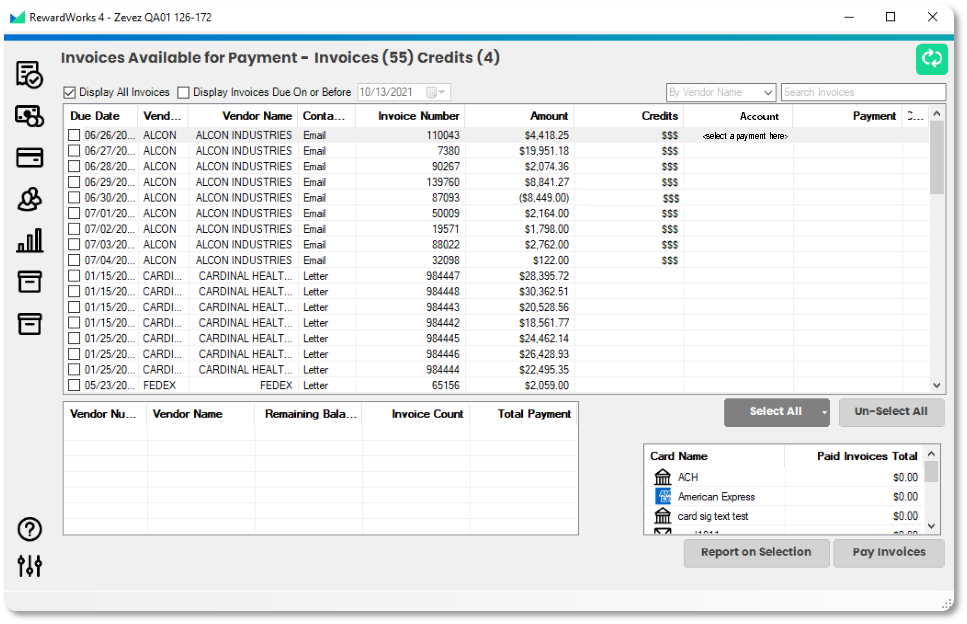 Once you accept the payment, a popup will display, allowing you to name the reloadable card.
Make sure it is named something you will recognize such as "Zevez Card On File" or "Job213 Zevez."
The "Make Default" check-box will have RewardWorks default to using this reloadable card for future payments.
Once completed, the card payment information will be given on a pop up. For vendors with online portals that require cards on file – you can enter the information from the pop up.
The next time you pay that vendor again, you will simply choose the existing reloadable number to add more money to that card.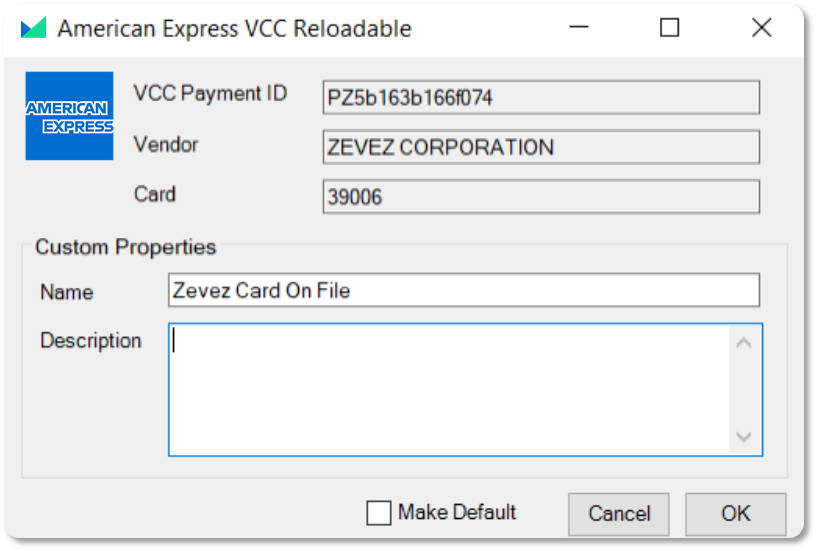 Step 4: Manage Reloadable Cards
The Virtual Payments tab will function the same way. Even if you add money to an existing reloadable card, the individual vendor payment will display. You will see that the name of the reloadable card is listed, allowing for you to easily sort by card.
To manage the cards created for a vendor, click the 'Manage Reloadable' from the 'Modify Vendor" screen.
From this 'Reloadable Manager' screen, you can toggle between the different Reloadable cards created for that vendor, as well as see remaining funds or disable any cards created if they are no longer needed.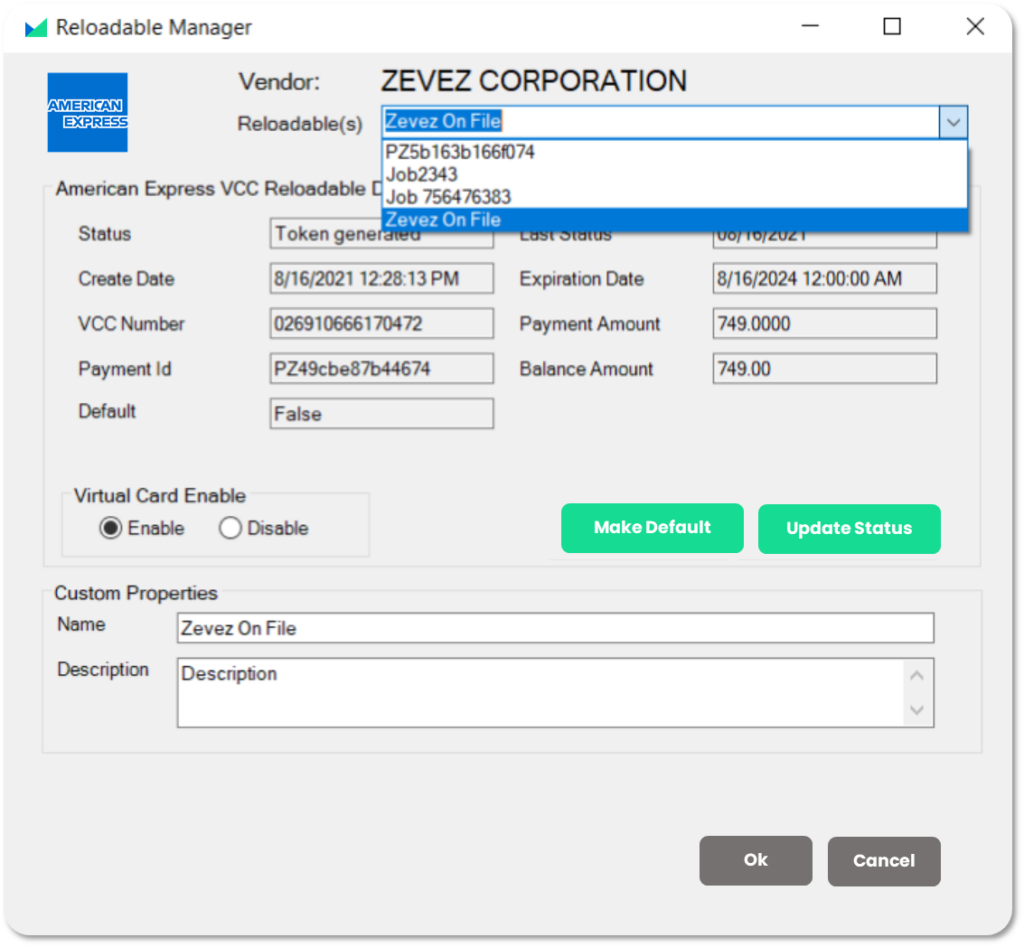 Reloadable VCC Reporting in RewardWorks
Charges and balances on Reloadable Virtual Cards are easily accessible within your RewardWorks application.
On the Virtual Credit Card tab, VCCs are labeled as "Reloadable," "Single-Use," or "Multi-Use". You can easily see the payments total and the remaining balance.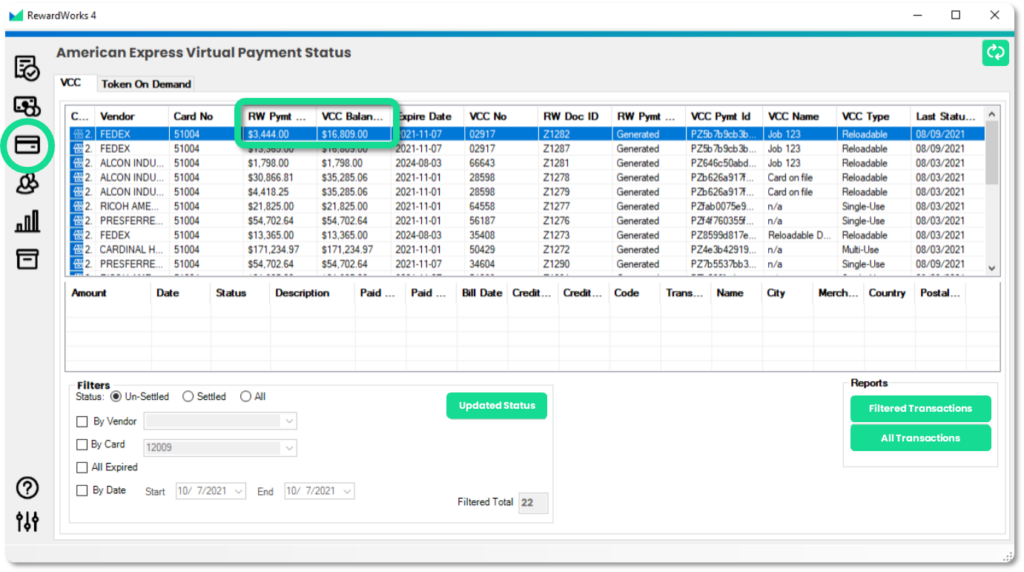 In the details table below, you will be able to see all charge details made on the selected card.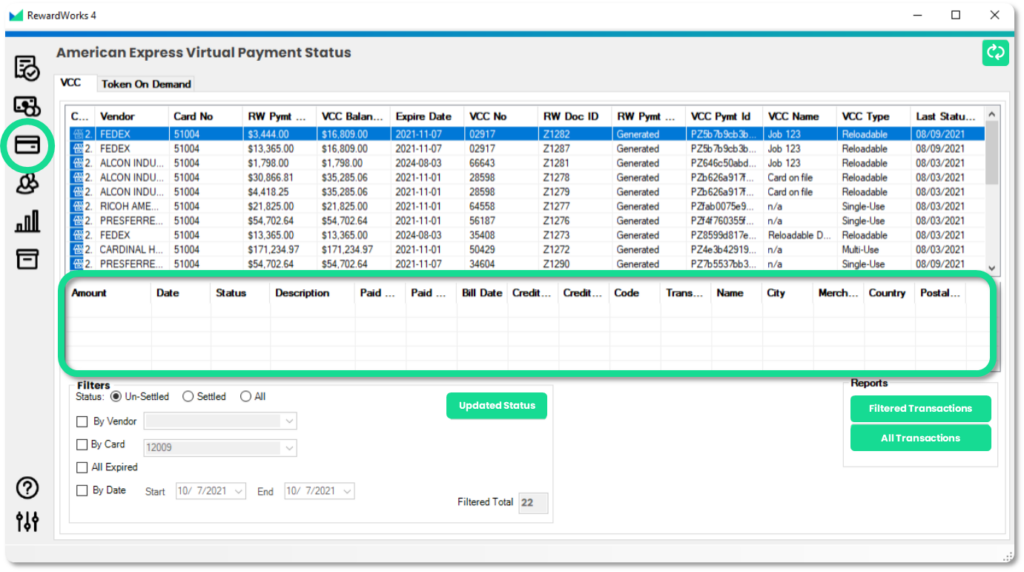 Subscribe to our Newsletter
Stay in the loop as we add features to RewardWorks and learn more about B2B payments.
Share this post with your friends